God's Heart for the Poor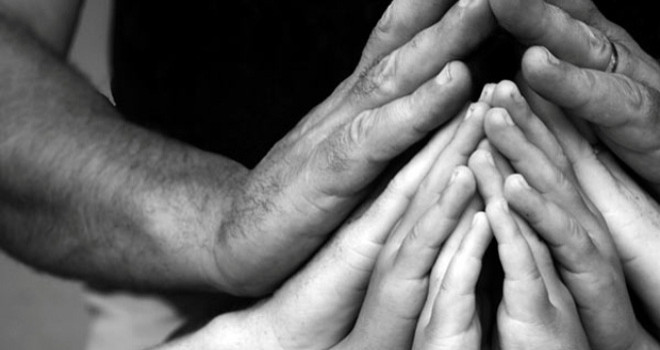 Since this week our youth are serving the poor in Seattle I thought it would be valuable to remind ourselves what Scripture says about God's heart for the poor.
Where did poverty come from?
Poverty was not part of God's original design for his creation.
When God made the world, he designed it to be a place of abundance, peace and joy. He placed Adam and Eve in the Garden with instructions to tend it and to steward it. The first thing he did for them was to bless them with an all-you-can-eat buffet of organic fruits and vegetables ready for the picking. There was no poverty or scarcity in the Garden. And the same will be true of heaven. In Revelation 21 the description we are given of the new Jerusalem is that it is a holy city with twelve gates. "And the twelve gates were twelve pearls, each of the gates made of a single pearl" (Revelation 21:21). It is a place of incredible financial security and wealth where there is no mourning or crying or pain. Those who spend eternity before the throne of God will be free from poverty because we are told "they shall hunger no more, neither shall they thirst" (Revelation 7:16).
And yet, despite all this, we find ourselves in a world today where people hunger and thirst, and where people suffer from lack of resources. This present-day poverty stems from the sin of Adam and Eve which took place in Genesis 3. Instead of allowing God to be the basis of their identity they chose to seek to make an identity for themselves and as a result they brought a curse down upon themselves and upon all of us as their descendants. The curse has affected our way of seeing each other, our way of making money and our way of building culture. It has led to laziness, addiction, selfishness, exploitation, injustice, greed and poverty.
God's ultimate response to this brokenness was to send his only begotten Son as a redeemer who would renew creation and restore us to wholeness. He knew that financial wholeness flows from spiritual wholeness. So, Jesus came and accomplished the first part of God's plan through his death on the cross, his resurrection from the grave, and his ascension to the right hand of the Father. He brought wholeness to many people and he founded the church to be a community of generosity, self-control, kindness, discipline, mercy, and wisdom. Like Israel, the church was meant to be a community that lived like heaven on earth. By surrendering to the reign of God they foreshadowed what we are told will happen at the return of the King. And even though poverty will not be eradicated before that final consummation, it can still be counteracted.
So what did God expect his people to do about poverty?
We can see the answer in both the Hebrew Scriptures and in the New Testament.
After the Exodus God is forming his people and giving them his instructions on how to live and he clarifies for them what kind of reaction they should have to those who are poor.
In Deuteronomy 15 we read,
there will be no poor among you; for the Lord will bless you in the land that the Lord your God is giving you for an inheritance to possess— 5 if only you will strictly obey the voice of the Lord your God, being careful to do all this commandment that I command you today. 6 For the Lord your God will bless you, as he promised you, and you shall lend to many nations, but you shall not borrow, and you shall rule over many nations, but they shall not rule over you.
7 If among you, one of your brothers should become poor, in any of your towns within your land that the Lord your God is giving you, you shall not harden your heart or shut your hand against your poor brother, 8 but you shall open your hand to him and lend him sufficient for his need, whatever it may be. 9 Take care lest there be an unworthy thought in your heart and you say, 'The seventh year, the year of release is near,' and your eye look grudgingly on your poor brother, and you give him nothing, and he cry to the Lord against you, and you be guilty of sin. 10 You shall give to him freely, and your heart shall not be grudging when you give to him, because for this the Lord your God will bless you in all your work and in all that you undertake. 11 For there will never cease to be poor in the land. Therefore I command you, 'You shall open wide your hand to your brother, to the needy and to the poor, in your land.'
God is clearly saying two things here. First, he is saying that if a community will put God in the center of its life, then the result would be a society free from poverty. Second, he is saying that when we see poverty our response should be soft-hearted and open-handed. This goes along with Proverbs 19:17 where we are told, "Whoever is generous to the poor lends to the Lord, and he will repay him for his deed."
Notice in both Deuteronomy and in Proverbs there is a promise that goes along with this command. In Deuteronomy 15:10 God says, "You shall give to him freely, and your heart shall not be grudging when you give to him, because for this, the LORD your God will bless you in all your work and in all that you undertake" Years later king David would echo this same sentiment in Psalm 41:17 "Blessed is the one who considers the poor! In the day of trouble the Lord delivers him;"
Part of the reason why God commands generosity towards the poor is because wealth is a gift from the LORD. Deuteronomy warns the people of God against thinking they are solely responsible for their success. It is true that successful people work hard and make wise decisions to earn wealth. To make money we have to be disciplined and self-controlled. However, the Lord warns us against taking credit for these things.
Deuteronomy 8 warns us-
Take care lest you forget the Lord your God by not keeping his commandments and his rules and his statutes, which I command you today, 12 lest, when you have eaten and are full and have built good houses and live in them, 13 and when your herds and flocks multiply and your silver and gold is multiplied and all that you have is multiplied, 14 then your heart be lifted up, and you forget the Lord your God, …. 17 Beware lest you say in your heart, 'My power and the might of my hand have gotten me this wealth.' 18 You shall remember the Lord your God, for it is he who gives you power to get wealth, that he may confirm his covenant that he swore to your fathers, as it is this day. 19 And if you forget the Lord your God and go after other gods and serve them and worship them, I solemnly warn you today that you shall surely perish.
Deuteronomy reminds us that not only our resources, but also our abilities to gain these resources, come from our loving God. When we fail to remember this, we come close to falling into the dangerous sin of idolatry, idolizing either our success, or our talents, or both.
The New Testament continued this trend of calling God's people to kindness and generosity towards the poor.
In Matthew 19:21 Jesus tells one potential disciple "If you would be perfect, go, sell what you possess and give to the poor, and you will have treasure in heaven; and come, follow me." And in Luke 14:13 Jesus told his followers "But when you give a feast, invite the poor, the crippled, the lame, the blind,"
As we read the New Testament closely we will see that the Christian church became the fulfillment of the vision found in Deuteronomy 15:4 which promised that a society who placed God in the center would do away with poverty.
When the church exploded in Acts chapter 2 we learn that "all who believed were together and had all things in common. 45 And they were selling their possessions and belongings and distributing the proceeds to all, as any had need."
Later in Acts we read, "with great power the apostles were giving their testimony to the resurrection of the Lord Jesus, and great grace was upon them all. 34 There was not a needy person among them, for as many as were owners of lands or houses sold them and brought the proceeds of what was sold 35 and laid it at the apostles' feet, and it was distributed to each as any had need."
Both the Apostle James and the Apostle John make it a point of the Christian life to be kind to the poor brothers and sisters within the church community. James writes, "If a brother or sister is poorly clothed and lacking in daily food, 16 and one of you says to them, "Go in peace, be warmed and filled," without giving them the things needed for the body, what good is that? 17 So also faith by itself, if it does not have works, is dead" (James 2:15-17).
John puts it this way, "By this we know love, that he laid down his life for us, and we ought to lay down our lives for the brothers. 17 But if anyone has the world's goods and sees his brother in need, yet closes his heart against him, how does God's love abide in him? 18 Little children, let us not love in word or talk but in deed and in truth" (1 John 3:16-18).
Why is caring for the poor so important in God's eyes?
I think part of the reason must lie in the message that generosity delivers. When someone with resources looks at someone else without resources and comes alongside them in humility rather than looking down on them in arrogance, it speaks volumes. It shows a realization that we are all needy before God. David was the King of Israel with power and wealth and yet he refers to himself in Psalm 40:17 and 70:5 as "poor and needy" because he understood something. He understood that spiritually speaking we are all beggars before God, dependent on him for life and breath and everything else. When this reality sinks into our hearts like it sank into David's, it frees us from looking down on others and allows us to find our common humanity with them.