I Heard The Bells On Christmas Day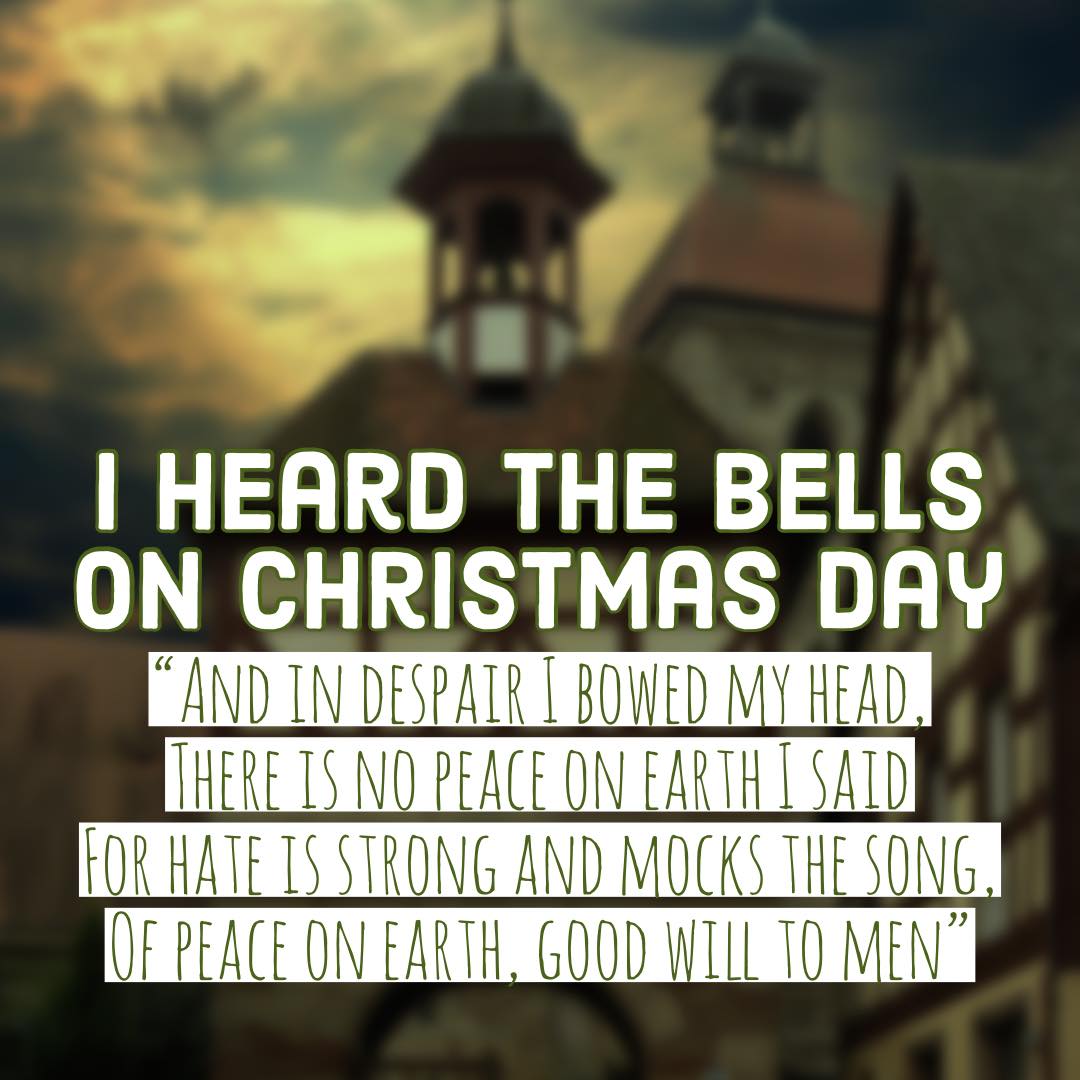 "And in despair I bowed my head,
There is no peace on earth I said
For hate is strong and mocks the song,
Of peace on earth, good will to men"

As we assess the year that we have each endured together, yet more separated, isolated and divided than ever we are reminded of the broken world we live in. Ultimately, it is the brokenness of mankind which cuts the deepest. Our relationships are broken, our worldview is broken and we long for peace and reconciliation. We see broken marriages, broken families, broken economies, and even broken churches.

There was a day, when nothing was broken, when all was right in the world. In the Garden of Eden, Adam and Eve were created and lived in a world of complete peace. This peace was understood by the Jewish people as "Shalom." Shalom means more than just the absence of war. "Shalom" as "completeness, soundness, welfare… PEACE." In the Garden of Eden, everything was right with the world- No war, no shame, no anger, no bitterness, no division, no suffering and no pain. Man was in a right relationship with God and with one another. All of that came crashing to the ground when Adam and Eve disobeyed God's command and brought sin into the world. This act of rebellion against God was a declaration of war, and the fallout from their sin was that "Shalom" was lost. Rebellion, evil, suffering and brokenness became the new reality for all of mankind. We still see, and experience this brokenness in our lives and in our world today.
So, when we read these words from the Christmas story, we find ourselves at an emotional and spiritual impasse- The angel proclaimed that Jesus, the newborn King, would bring peace. "Glory to God in the highest, and on earth peace to men on whom his favor rests." Luke 2:14

We long for this promise to be true, we long for the peace that the angels declare and yet, as we observe the tattered and battered landscape of our wretched world we question how it could possibly be true at all!
If you find yourself questioning the Angel's Christmas promise of peace, you are not alone…

"I Heard the Bells on Christmas Day" is a song based on the poem, "Christmas Day" by Henry Longfellow, a poet in 1863. In the days leading up to Christmas he received the news that his son was killed in battle during the civil war and his wife was killed in a fire. On a bitter Christmas morn, Longfellow heard the town bells ringing a Christmas song, and in the tension of grief and hope that many of us experience today, he penned these words. And in despair I bowed my head; "There is no peace on earth," I said; "For hate is strong, And mocks the song, Of peace on earth, good-will to men!"

A little over 100 years later, Martin Luther King Jr began a sermon on Christmas eve, 1967- "This Christmas season finds us a rather bewildered human race. We have neither peace within nor peace without. Everywhere paralyzing fears harrow people by day and haunt them by night. Our world is sick with war; everywhere we turn we see its ominous possibilities."
In the Gospel writer Matthew's story of the birth of Jesus, Bethlehem is known not only as the place where Jesus was born, but also the place where Herod's soldiers slaughtered babies and toddlers. This is not a place where, as the carol says, "the silent stars go by" but a place where the loud crying of parents is heard because their children, who had done nothing, were now dead. Matthew's familiar nativity scene ends, not with sparkling angels proclaiming good-will, but with Rachel weeping for her slaughtered children. (Rachel, the wife of Jacob, believed to be buried near Bethlehem, is imagined as weeping for her descendants).

Matthew has placed the birth of Jesus right in the middle of the real world where rulers like Hitler, Stalin, Pol Pot slaughter children for their own political ends. The baby Jesus has come into a world where children in Bosnia, Belfast, Brazil, Israel and Palestine are killed.

He has come into a world where many more babies than the babies of Bethlehem are aborted everyday, others are brutally treated and killed, and others are sold into prostitution or slavery. The baby Jesus came into a world where more children die of hunger every minute than the children of Bethlehem died at Herod's command. This is the real world, and it's into this world that Jesus Christ comes.

It's into a world of pain and sorrow, of political intrigues and deceit, of murdered children, and people who are imprisoned, tortured, and executed; where uttering the simple creed "Jesus is Lord" is enough to sell your whole family into slavery. The baby Jesus comes into our own personal world of death, grief, sorrow, helplessness, and suffering. It's into a world where a son refuses to speak to his father and a daughter shuns the values of her upbringing that Jesus is born.

Matthew wants to make it clear that Jesus wasn't born into a fairy-tale world where there is harmony and peace, happiness and angel choirs. Too often, we leave Herod out of the Christmas story – he doesn't fit with our Hallmark wishes, sugarplum dreams, or with the pristine baby Jesus in the sweet-smelling hay. The real Christmas was far from the sanitized and sentimental story that we present in our robes and slippers. Jesus came into a world that is far from perfect, in fact a very evil world. Into the real world where we live, and work and struggle has come a Savior who is Christ the Lord. He doesn't remain above the trouble of this world. Rather he enters into the fray as a baby, he becomes as vulnerable and helpless as the baby boys of Bethlehem.

All this gives us an idea of how magnificent it is that God became a human. Our world is filled with so much wickedness and sin that the holy God could have refused to send us his Son. Only when we keep this context in the forefront can we appreciate the stark reality of God's entry into the world. Jesus Christ comes to us, not into a picture perfect peaceful world of serenity and tranquillity. No, Jesus Christ comes to us into the real world, a world of pain and death and suffering and evil. This is the world we all understand, in one way or another.

So what do we make of the promise of peace from the Angels to the Shepherds? This is a promise that has already been fulfilled through Jesus Christ, but not yet realized in our present experience. Jesus will one day restore the Shalom that was shattered by sin's entry into humanity. The peace that was stolen by the serpent in Genesis 3 will be reinstated by the Savior as described in Revelation when Jesus ushers in a new Kingdom, a new heaven, a new earth and a new Jerusalem!

"Behold, the dwelling place of God is with man. He will dwell with them, and they will be his people, and God himself will be with them as their God. He will wipe away every tear from their eyes, and death shall be no more, neither shall there be mourning, nor crying, nor pain anymore, for the former things have passed away." And he who was seated on the throne said, "Behold, I am making all things new." Revelation 21:3-5
Jesus is making all things new and He is starting with us! We are the first fruits of His new Kingdom order, where the promised hope of Shalom will become our eternal reality. God is not done, and as Longfellow reminds us with the conclusion of His poem, He is not dead or asleep either!

"Then rang the bells more loud and deep, God is not dead, nor does he sleep,
The wrong shall fail, the right prevail, With peace on earth, good will to men!"