The Beauty of Dying to Self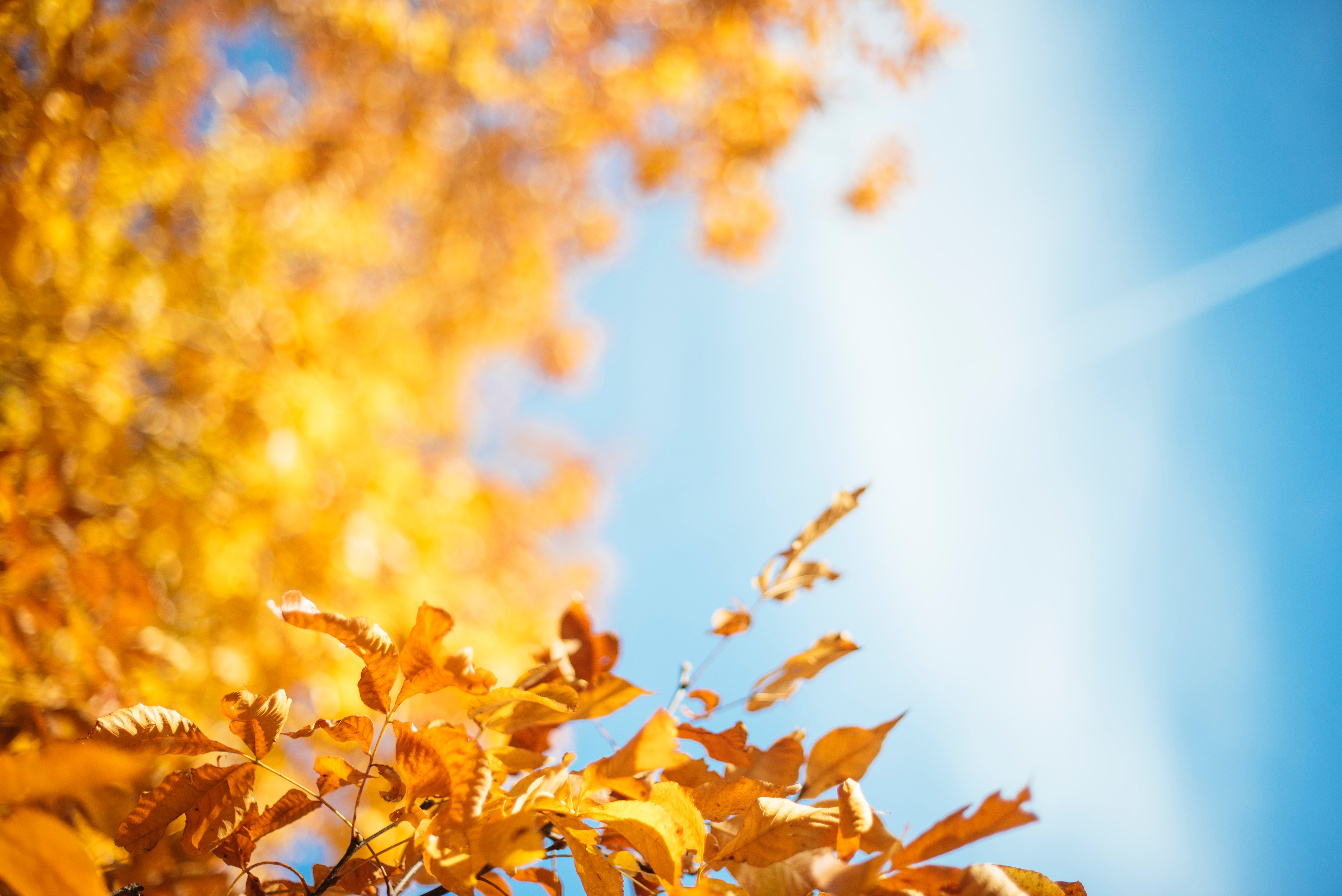 Every year in the Pacific Northwest we are treated to an array of exploding color flying from the branches of our many deciduous trees. Maples, Cottonwoods, Alders, Pacific Madrones, and Birch trees remind us to look up from our phones and marvel at the beauty of creation.
David Lee, professor emeritus in biological sciences at Florida International University and author of Nature's Palette: The Science of Plant Color, tells us that two things are happening in these leaves.
First, he tells us that the natural yellows and oranges which have been covered up by the chlorophyll in the leaves is able to be revealed. These hues have been in the leaves all along, but overshadowed and hidden by the green chlorophyll. Scientifically speaking, the chlorophylls were covering the carotenoids. And as the chlorophylls disippate the carotenoids display.
The second phenomenon he explains is the creation of a new color that was not there before. As the chlorophyll retreats, a new color is produced in the leaf: a bright vibrant red.
As Lee explains to Smithsonian Magazine "People argue that the red color is [also] an unmasking from the breakdown of chlorophyll, and that's simply wrong," Lee says. "The red color is actually made when the chlorophyll is beginning to break down—there's a synthesis of those pigments, so it's quite a different thing."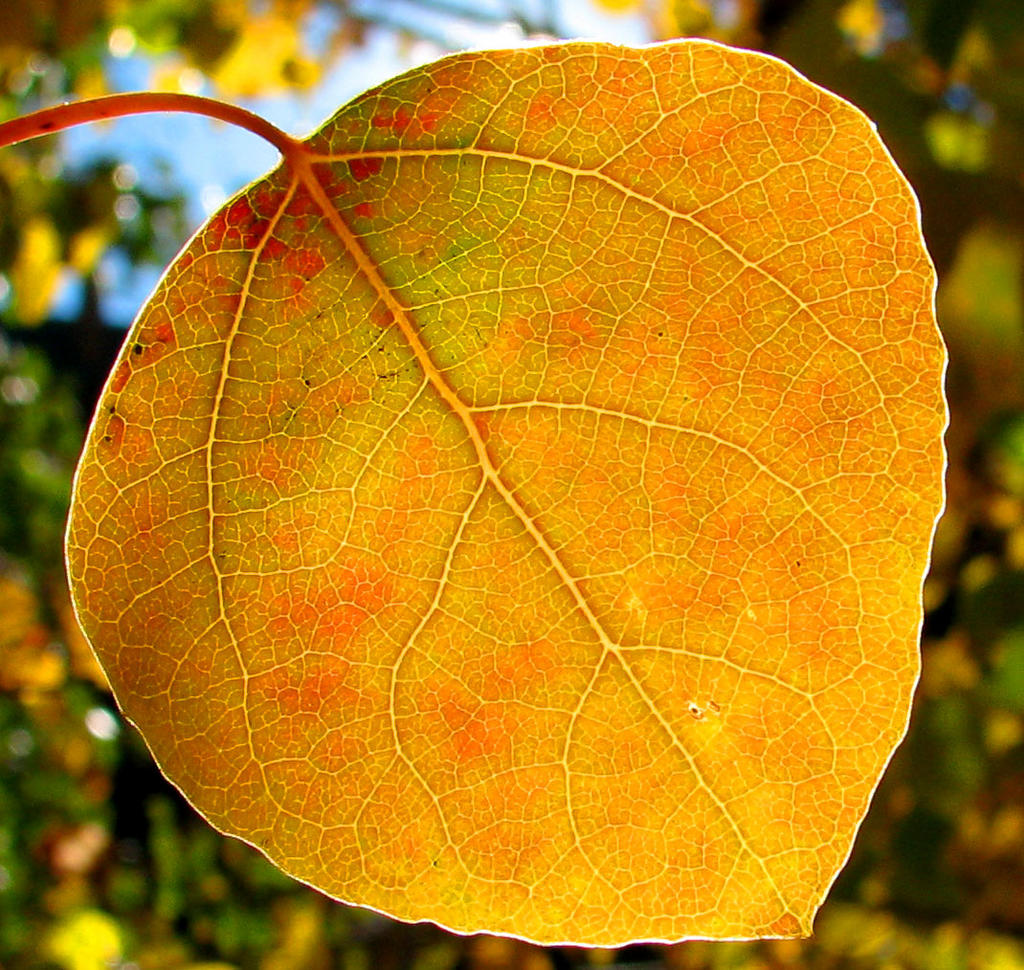 You can see these colors shining through in this Quaking Aspen leaf or in these Sugar Maple leaves captured by National Geographic.
These show us the beauty that can come from dying. And I believe they have relevance for our lives as believers in Jesus.
Those beautiful yellows and oranges have been there all along but masked by the chlorophyll. In the same way the Spirit of God dwells within each believer and yet he is often masked by our sinful nature.
Paul talks about this in Romans 8:11
"The Spirit of God, who raised Jesus from the dead, lives in you. And just as God raised Christ Jesus from the dead, he will give life to your mortal bodies by this same Spirit living within you."
When an individual trusts in Jesus for justification that one receives the Spirit of God. He "lives in you" as Paul says. He goes on to explain. "you have not received a spirit that makes you fearful slaves. Instead, you received God's Spirit when he adopted you as his own children. Now we call him, "Abba, Father." 16 For his Spirit joins with our spirit to affirm that we are God's children."
This reality of the Holy Spirit in the life of the believer is just like the yellow and the orange in the leaves. It is present but it is masked by something. That something is described by the Bible with the Greek word σάρξ (sarx). Depending on which English translation you have it may render it as "flesh" "sinful nature"
The σάρξ (sarx) is at war with the Spirit of God inside of each believer. This is why Galatians 5 tells us
"let the Holy Spirit guide your lives. Then you won't be doing what your sinful nature (σάρξ) craves. The sinful nature wants to do evil, which is just the opposite of what the Spirit wants. And the Spirit gives us desires that are the opposite of what the sinful nature (σάρξ) desires. These two forces are constantly fighting each other, so you are not free to carry out your good intentions."
The beautiful colors of the Holy Spirit are already inside of each believer ready to shine forth. But to allow that to happen the sinful nature, the σάρξ, must be put to death.
Paul tells us Romans 8:13
"For if you live according to the flesh, (σάρξ) you will die; but if by the Spirit you put to death the misdeeds of the body, you will live."
Putting our sinful nature to death, so the Spirit of God can shine through us, is a beautiful part of what it means to be a Christian. This is what Galatians is talking about when it says, "I have been crucified with Christ and I no longer live, but Christ lives in me. The life I now live in the body, I live by faith in the Son of God, who loved me and gave himself for me."
A community of people living out the truth of Galatians 2:20 is even more glorious than this amazing driveway at Rockwood Farm near Snoqualmie. When the church dies to our sinful nature, it is a beautiful display to the world.
To be crucified with Christ means we allow the things inside of us, to die: things like pride, envy, lust, greed, sloth.
But, just as the yellow and orange teach us that there is beauty already inside of us by the Spirit, the red teaches us that, as we die to our flesh, God reserves the right to create new virtues in us which were not there before.
As Peter died to himself, he found that he was now brave and bold in a new way which was not there before. In the same way, as we die to our old selves, God in his grace may add new things to our character.
The Spirit of God is present in everyone who has trusted in Jesus' finished work on the cross. He already lives in you. And the more we will take steps to die to ourselves, the more the Spirit's beauty will shine through our lives.
Some of the traditional ways of dying to our sinful nature include, spending time with God in prayer, repentance, silence, fasting, and Scripture memorization.
Sinclair Ferguson writes a helpful article here on how to mortify sin. The first step he encourages us to take is to become familiar with our new identity in Christ, and to let that shine through.
After all, the Bible tells us
"Even before he made the world, God loved us and chose us in Christ to be holy and without fault in his eyes. God decided in advance to adopt us into his own family by bringing us to himself through Jesus Christ. This is what he wanted to do, and it gave him great pleasure."
Next time you see beautiful leaves, remember this passage and reflect on the fact that you are even more glorious than the trees.